At 2am the last guest spontaneously left and the first, best Hogwarts Alumni Reunion Party ended.
It was one of the best parties I've ever thrown at a con, and I've thrown a lot of parties in 20+ years of going to science fiction conventions.
The plot to hold this party was hatched just ten days or so before the con, when I was miraculously moved from the waitlist into the room block (thank you Arisia staff and innkeepers! thank you thank you!). I had plans to run a party for Circlet Press on Friday night, but that meant Saturday night.. (cue "thinking music").
I emailed some friends, posted on my LJ, and found that I wasn't the only nut psyched to throw a Harry-Potter-themed party for adults.
Why for adults, you ask? Two reasons, actually. Although I know Harry Potter is enthusiastically enjoyed by people of all ages–most certainly including the children WHO ARE THE TARGET AUDIENCE–there were two things I did not want to happen. One was I did not want irresponsible parents to think, "woo! Harry Potter party! I'll send my kids there while I go booze it up at Barfleet!" Now, the majority of fannish parents are responsible, but I've seen enough of questionable parental supervision at Arisia in past years to not want to become the de facto babysitting room.
The other reason is I did not want some mother to have to say to me, "My 11-year old daughter was not ready to know about buttsex!!" Ahem. Yeah, we have a lot of slashers in this crowd, and the last thing we're going to do when we get together to talk Harry Potter is censor ourselves.
So I marked the party as "adults only." If you're of the age to still be going to Hogwarts, you can't be in the "Alumni Association."
My friends at HPEF got on board when I told them about my plans, and they sent a giant box of "Keep Calm & Carry Wands" Ascendio tote bags to give away!
Tsujton from LJ donated some wonderful door prizes. My friends Alyse & Dave, who will be sharing a room with me and Gatewaygirl at Ascendio, loaned us their huge Hufflepuff and Gryffindor banners…
and baked brownies and pumpkin cupcakes decorated with the Deathly Hallows symbol.
They also provided a few dozen "jack-o-lantern" tangerines!
My friend Jensen baked brilliant Cauldron Cakes in the house colors, each chocolate cupcake "cauldron" filled with a flavored, colored icing. Slytherin mint, Hufflepuff lemon, Ravenclaw blueberry, and Gryffindor strawberry.
I also decorated with a few dozen LED "candles," put up various gold and bronze ribbons, and laid out a green tablecloth with silver inlay. To make sure Ravenclaw was represented, I put a scarf over a lamp.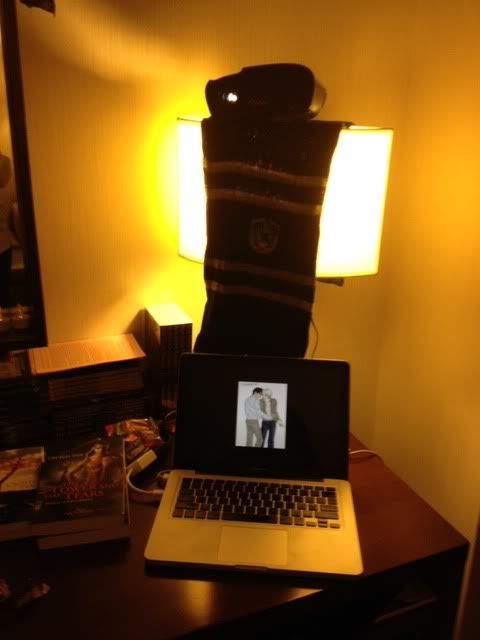 The final "decoration" in the room was I set up my LED projector to show a slideshow of fanart on the wall. Of course, just about all the fanart I have is slash. Most of it is really X-rated slash. But I found about 35 images on my hard drive, many of them showing a kiss, that I deemed not TOO smutty to show to consenting adults. I put Andrew Bird's "The Thrilling Hour" on as our Wizarding Wireless radio.
All was in readiness, and we opened the door right at 9pm to find… Wizards and witches! In their full robes and regalia standing outside waiting for us to let them in!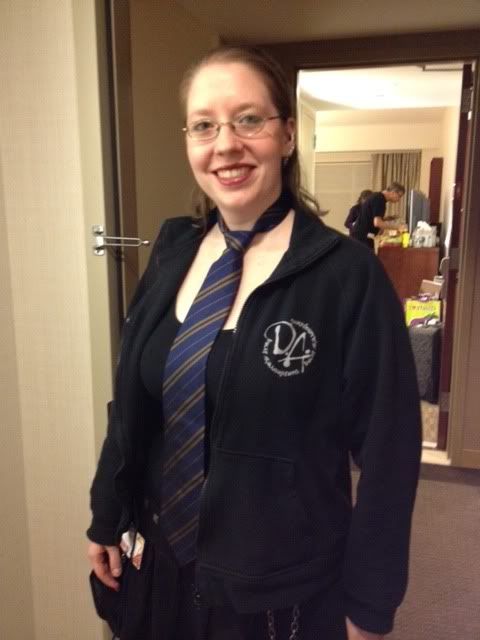 From that moment for the next two and a half hours or so, the party was packed. More and more folks were coming by in their Gryffindor ties, their Bellatrix corsets, lots and lots of robes. Lots and lots of wands. We gave out glow sticks. Freckles42 also gave out some fabulous rolled paper wands. I ended up giving her "The Duck Lord" as a door prize for her awesome "Mary Sue" costume (which included elements of Slytherin and Ravenclaw, because, you know, she's so special she's actually in BOTH houses, and… etc… I can't do the whole thing justice, but she had me, Gatewaygirl, and Ellid, laughing as the story grew more and more hilarious.)
Various Muggles did also attend, and I did not give them a hard time, but did offer them Butterbeer (well, cream soda & root beer topped with whipped cream), tote bags, and temporary glowing wands (glow sticks) that could be transfigured into bracelets.
There was much comparing of wands. No, really.
I basically talked myself hoarse by 11:30p, when the crowd lightened suddenly, which was fortuitous, as not a few folks in the room were curious to see Dan Radcliffe's hosting of Saturday Night Live. It took us a few tries to get the Muggle technology of the telly-vision working (I'm not actually joking about this–I don't even have a TV, and none of us had a clue what channel number was NBC… but we found it in time for Dan's opening monologue!)
The next hour shifted between hilarity while watching the show and then intense bursts of conversation during the commercial breaks. By the time the show was over, we were down to mostly die-hards. Then some new folks came in and it got lively again (though never quite as crowded as it had been the first two hours). We were supposed to close at one, but we still had pumpkin cupcakes and I still hadn't completely lost my voice, so we stayed open.
Among the other door prizes I gave out were a pair of Slytherin earrings to a woman who admitted to us all that it was her VERY FIRST Harry Potter fan event ever, and for the occasion she had MADE a beaded dress! And was carrying a beautiful and unique wand, too. Narcissa's, she said. She could hardly believe I gave her the earrings, but I had intended the prizes for costumes and, c'mon, she hand beaded that dress!
James "Snape" Hinsey came along in his Pigfarts astronaut suit (some of you may remember it from Aeternitas). Other folk we'd met at Aeternitas appeared, including the nice fellow who had set up his telescope the night of the ball so we could see Saturn and whose name has now escaped my tired brain. I did a quick podcast interview with Kriken for Slashcast about Arisia and the party. It was fabulous to meet EnchantedStarlight, who writes Draco/Ginny. She hadn't even been planning a wizarding outfit for tonight, but after Barfleet got shut down early in the night, she quick changed out of her StarFleet uniform into a fabulously feathery witch hat, gorgeous dress and jacket, got out her "Draco" replica wand, and joined us! (Mijan came in full Starfleet regalia, old Kirk style.)
In the end, I was mysteriously left with a lot of orange food. I'd overbought carrots, there were 4 pumpkin cupcakes, and many of the tangerines, plus orange soda, apricot cookies, and even the peanut butter sandwich cookies are sort of orange. Odd, no? We received many compliments and comments on how our party had the best food at the con (as well as the cutest, by far).
Anyway, in the end a fabulous time was had by all. We gave away over a hundred tote bags, about fifty glowstick wands. Alyse and David had left somewhat earlier, so I'll have to return their banners to them tomorrow.
Now it's time for me to get some sleep. I'm checking out in the morning, but I'll be at the con all day and into the evening, probably won't be home until midnight tomorrow night. See you all at Ascendio in July!